Plaza Mayor de Manila in Intramuros Circa 1847
Working as messenger at the Bureau of Coast and Geodetic Survey (BCGS) in September 1972, Santiago "Santy" Morante would spend hours watching his higher-ups produced navigational maps. And that early he had dreamed dreams about these maps.
Then 5 years later, he started to become the premier distributor of navigational charts, maritime books, publications, logbooks & forms, nautical & weather instruments in the Philippines.
In fact, he earned his first million from the business. His company, MORBAI was the only authorized sales agent in Manila of various international government agencies such as: the British Admiralty (BA) in UK, National Imagery and Mapping Agency (NIMA), in Washington, D.C.; National Ocean Survey (NOS) in Riverdale Maryland; U.S. Government Printing Office (USGPO) in Washigton D.C.; U.S. Geological Survey (USGS) in Denver, Colorado; Australian Hydrographic Office (AHO) in Sydney, Australia; Japan Hydographic Association (JHA) in Japan and the Land Information New Zealand (LINZ) in New Zealand.
His work experiences with the Bureau of Coast and Geodetic Survey (BCGS) now known as National Mapping and Resource Information Authority (NAMRIA), provided Santy the needed knowledge and encouragement to go on his own. As a survey aide, a subtle term for that agency's messenger, he used to deliver liaison documents and navigational maps from the NAMRIA to its vessels and vice versa.
His direct involvement in the preparation of navigational maps began when he was promoted to Coast and Geodetic Survey Recorder (GSR), or an assistant of a cartographer, who makes the maps. He remembers being assigned one time in Palawan with a team sent to gather oceanographic data to update that island-province's nautical map.
Then he was later promoted to cartographer, a position which enabled him to learn how to put additional data on Philippine topographic and nautical charts such as changing the names of cities and towns, resetting boundaries, updating ocean depth and the positions of buoys, those floating ball-like steel structures that warn ocean-going vessels of shallow areas.
Santy's big break came in 1974, when he became the Acting Assistant Chief of Stock and Sales Unit under Charts and Maps Production Division, which distributed and sold maps & charts to training schools, shipping and fishing companies. He said that the BCGS then only made and distributed Philippine nautical maps. Thus international or local ships which took international routes had to seek other maps elsewhere. Most of the time, according to Santy, some of the ships had to sail without even having new charts to work on and had to rely on old ones already marked with previous routes taken. Such a problem, however, became Santy's motivation to go into business selling navigational maps.
And he considered it very timely and fortunate to meet a representative of the US Defense Mapping Agency during a conference with other BCGS official. In that meeting, where other shipping industry problems were discussed, the American representative also singled out the need for the navigational map distribution business.
Because of its limited budget and the need to provide other services, the BCGS could not concentrate on reproducing navigational maps for local and international ships, which regularly dock at the Port of Manila. The counterparts of BCGS in other Southeast Asian countries were no better: they cannot supply the maps either.
This information crystallized Santy's project. As he gathered more information, a US Navy officer assured him that since Santy had the needed knowledge and exposure in the navigational map business, he could not go wrong if he decides to go into the mapping business.
With little savings and a PHP1,000 salary loan from the GSIS, he set up and registered his company. The name MORBAI is the combination of the first three letters of his surname (Morante) and his wife Teresita's surname (Baina). The company was first housed in their former home in Medel St., Sta. Ana Manila.
He was still employed with the BCGS when MORBAI came into being. "I was just then waiting for the right time to resign," recalled Santy. The opportunity came when due to intrigues, he was scheduled to be assigned or he termed it, "isolated" in Palawan in 1975.
Then the inevitable came. He was on his own peddling crudely-prepared navigational maps mounted on kacha, to several bookstores and maritime schools, among other outlets. At the time, however, he had already applied for a license to be the exclusive local distributor of the US Defense Mapping Agency now known as National Imagery and Mapping Agency (NIMA).
"It took less than a year for my license to be approved," noted Santy, who is now actively involved in different religious and civic organizations like the Knights of Columbus, Manila Council 1000 as Past Grand Knight (PGK); Past Faithful Navigator (PFN) of Padre Burgos Assembly, Luzon State Church Director, Committee Chairman on Christian Formation Course, and Former District Deputy of Luzon Jurisdiction; Past District Governor (PDG) of Lions Clubs International District 301-D1, Past President of the Council of Past Lions Governors of the Philippines (CPLG), Chairman of the State Council of Governors, MD 301 Philippines, Campaign Sightfirst II Coordinator of Lions Clubs International, National Treasurer of Pro-life Philippines, and Past President of Manila Chamber of Commerce and Industry.
He recalled that when a representative of the US Defense Mapping Agency (DMA) cross checked his Sta. Ana office sometime in 1975, he was very apprehensive because it looked more like a warehouse full of maps and cacha than an office. Nevertheless, his application was approved mainly because of his sheer knowledge in map making and distribution.
Six years later, in 1981, MORBAI moved into a bigger and more presentable office in Intramuros which is nearer the Port of Manila, his "gold mine" where most local and international ships dock. His friends and clients who said that it would put prestige to the business also egged his transfer to Intramuros. His list of clients, both local and international companies, could be considered the who's who in the shipping and fishing industry.
In 1983 up to 1999, he branched out to Cebu, Davao, Cagayan De Oro, Ilo-Ilo, Zamboanga, Palawan, Batangas, Makati, La Union and General Santos to serve the needs of the ships calling on these ports. "Our main problem then," said Santy, "was that we could not deliver on time and we did not have the precise maps that the ship captains needed. Secondly, "we did not have enough stocks on hand."
Now, he added, after three decades in the business, we already know what specific maps are needed by our regular clients. We stock up to 20 copies of each of the most saleable maps at any given time.
The charts & maps, as you know, came all the way from our mother agencies, namely the FAA/NOAA/NGA, AUS, JHA, LINZ, USGPO, USGS & UKHO, and of course, from our own NAMRIA, Santy explained.
During the start-up years, Santy himself delivered the maps to the ship captains or the ship owners, as the case may be, so as to get acquainted with them. It was also his strategy to strengthen and maintain MORBAI's relationship with them, even if it is the only company that provides their need for navigational maps in the country.
Santy proudly recalls his first "big" sale to a local company (Bernardo Shipping) which bought PHP91,000 worth of nautical charts from throughout the world. This reassured him that he did not make the wrong decision in putting his own business.
With MORBAI's success, Santy diversified into other related items such as technical maps, navigational instruments, radar equipment, marine electronics, marine books, publications, ship's logs, forms, flags, and other marine and aviation paraphernalia. MORBAI has been a byword among ship captains and owners when it comes to nautical charts.
Since its inception, the company has established itself as the number one distributor of navigational charts & publications of national and international waters, which are essential for the safety of navigation and commerce. MORBAI Charts/Maps & Maritime Supplies (MCMMS), being a private enterprise, has built a reputable name in the shipping industry trusted in servicing the merchant marine and civil population within the Philippine islands.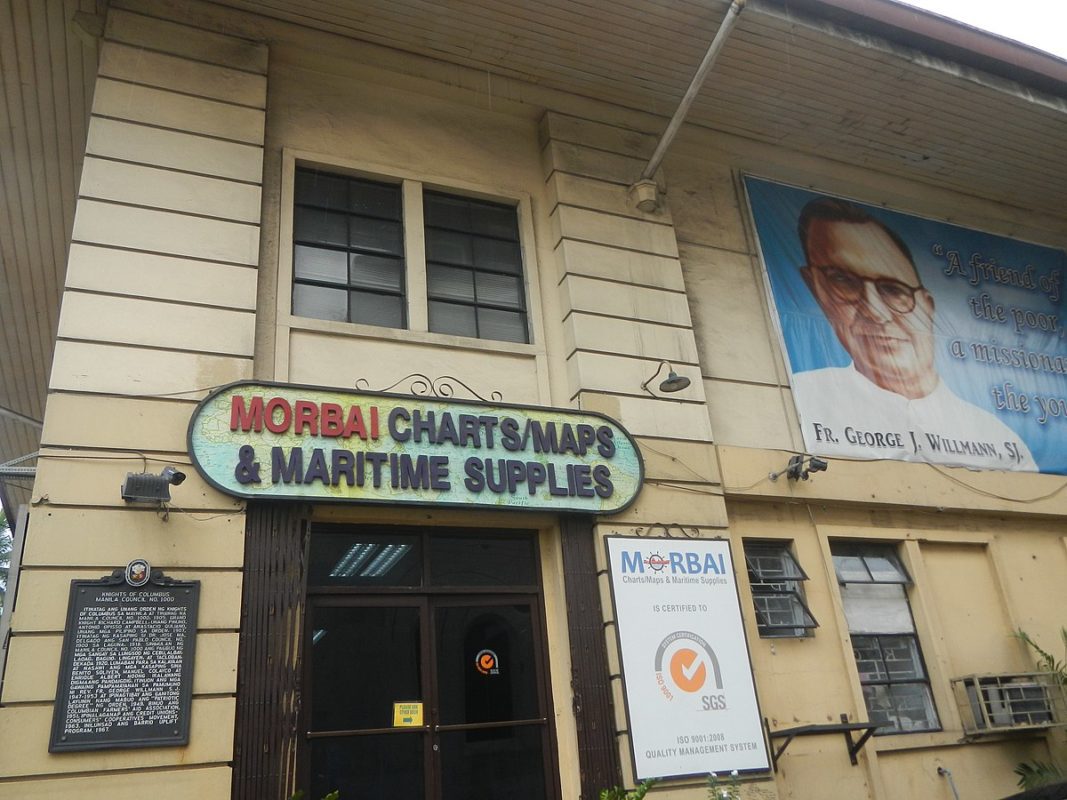 In 2009, MORBAI has strategically planned the expansion of its distribution network in Southeast Asia. The company has built a reputable name in the shipping industry trusted in servicing the merchant marine and civil population within the Philippine islands, and recently, in Singapore and Vietnam.
Now in this new Digital Age, he would like to continue this life long journey of helping not just the Philippine Maritime Industry, not just our neighbors in the Southeast Asia, but are now making our services available to the whole world!
We are your Nautical Chart Agent! Welcome Aboard!!!